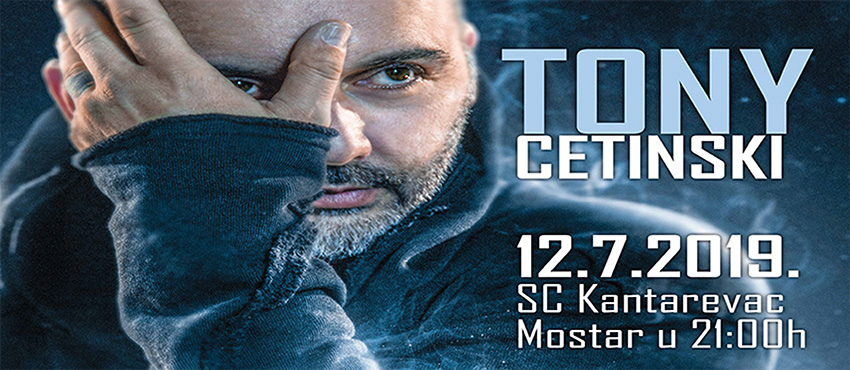 TONY CETINSKI :: MOSTAR @S.C. KANTAREVAC
Date: 12/07
Location: S.C. KANTAREVAC, Mostar
KONCERT TONYA CETINSKOG U MOSTARU
Regionalna glazbena zvijezda, jedinstveni Tony Cetinski, nakon dužeg vremena stiže u Mostar. Publika će uživati u glazbenom spektaklu 12.07.2019. u Mostaru na SC Kantarevac.
Tonyjevu dugogodišnju glazbenu karijeru krase mnogobrojni hitovi i uspješni koncerti kojima oduševljava sve prisutne. Ono što je posebno kod Tonija je emocija koju pjesmom prenosi na svoju publika, te izuzetna energija kojom plijeni na svojim koncertima. Ljubav prema glazbi Tony prenosi kroz svoje pjesme od kojih su mnoge velike hitovi, a neke od njih su "23. prosinac", "Opet si pobijedila", " Onaj tko te ljubi sretan je", "Kad žena zavoli", "Umirem sto puta dnevno", "Kao u snu" i mnoge druge u kojima će publika uživati i na predstojećem mostarskom koncertu.
Mostar, Hercegovina, a i šira regija, zasigurno mogu očekivati nezaboravnu večer ispunjenu velikom količinom emocija, dobre energije i ljubavi, a sve to u vrhunskoj Tonyjevoj izvedbi.
Outlets
In addition to online shopping, you can also purchase your tickets at our points of sale. Look for us in your city too!