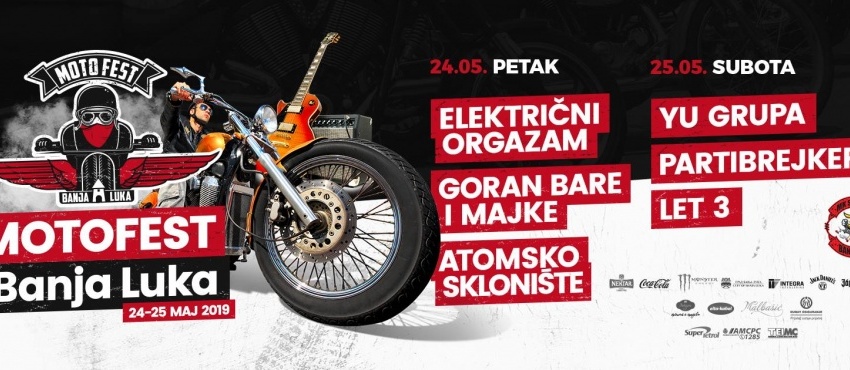 MOTO FEST BANJA LUKA 2019 @Tvrđava Kastel
Date: 24 - 25/05
Location: Tvrđava Kastel, BANJA LUKA
MOTO FEST, BANJALUKA 2019
24. - 25. MAJ
Tvrđava Kastel, Banjaluka
I ove godine u organizaciji MK Stršljen, 24. i 25. maja u Banjaluci će biti održan treći po redu "Moto Fest, Banjaluka 2019".

I ovoga puta nastavljamo u istom pravcu, primarni cilj Moto Festa ostaje usmjeren na razvoj i promociju moto sporta, kao i moto turizma u gradu na Vrbasu.

Programski raspored pored moto sajma na kojem svoje modele izlažu svjetski moto brendovi, muzičkog programa u okviru kojeg će nastupiti najpoznatija imena regionalne muzičke scene, izložbi, stunt vožnji, izbora/nagrada za najbolje motore i moto klubove, zabavni program biće upotpunjen i sa novim atrakcijama i sadržajima, koji će sigurni smo i ove godine Banjaluku učiniti epicentrom zabave i najboljeg provoda za ljubitelje dvotočkaša.

U muzičkom dijelu programa nastupaju:

24. maj – Električni orgazam; Goran Bare i Majke; Atomsko sklonište
25. maj – YU Grupa; Partibrejkers; Let 3
Cijena jednodnevne ulaznice je 10 KM
Cijena dvodnevne ulaznice je 17 KM
Sve informacije, najave i dešavanja u vezi sa "Moto Festom, Banjaluka 2019" možete pratiti na www.motofestbl.com
Outlets
In addition to online shopping, you can also purchase your tickets at our points of sale. Look for us in your city too!