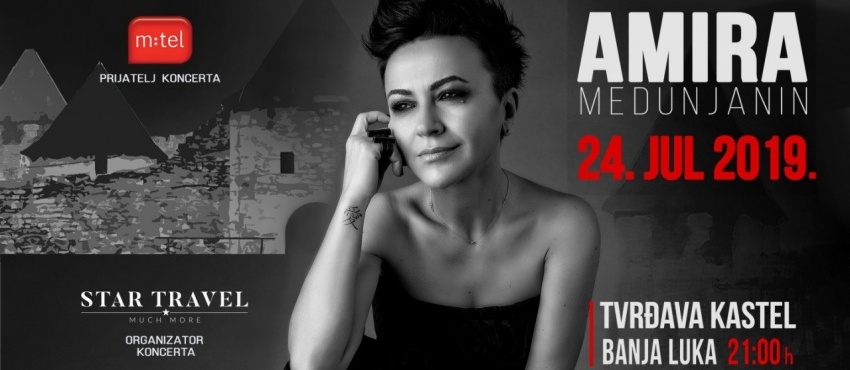 AMIRA MEDUNJANIN @Tvrđava Kastel
Date: 24/07
Location: Tvrđava Kastel, BANJA LUKA
Star Travel & Much More
sa zadovoljstvom vas poziva na koncert Amire Medunjanin koji će se održati 24. jula na ljetnoj pozornici tvrđave Kastel u Banjaluci sa početkom u 21:00 h .
Amira Medunjanin
nastupiće u pratnji Banjalučke filharmonije i njenih dugogodišnjih saradnika:
Ante Gelo
– gitara
Bojan Zulfikarpašić
– klavir,
Zvonimir Sestak
– kontrabas .
Oni koji su imali priliku uživati na njenim koncertima u Banskom dvoru 2017. godine znaju da je riječ o autentičnom sevdah doživljaju kojim dominira harmonija strasti i duševnosti.
Ovog puta Amira u Banjaluku donosi magiju emocija i muzike, obogaćenu novim dostignućima kroz mnogobrojna nova ostvarenja koja zadiru u najintimnije dubine duše, budeći ljepotu u srcu svakog slušaoca bez izuzetka.
Outlets
In addition to online shopping, you can also purchase your tickets at our points of sale. Look for us in your city too!