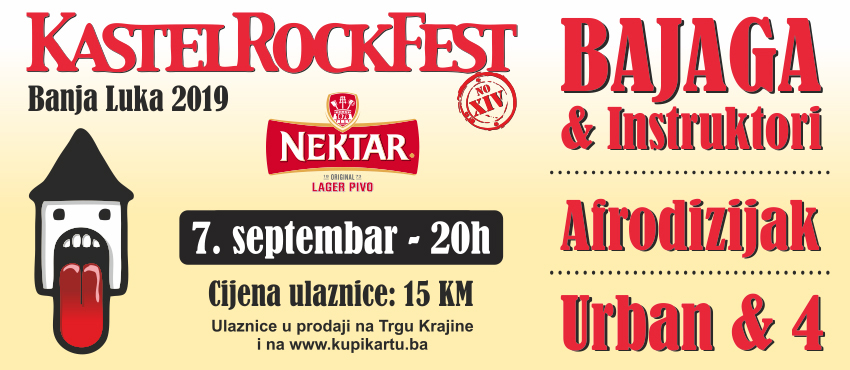 NO. XIV KASTEL ROCK FEST - PROLONGIRANO !! @Tvrđava Kastel
Date: 07/09
Location: Tvrđava Kastel, Banja Luka
O B
A

V

I

J

E

S

T

Prolongiran Kastel Rock Fest 2019. za 7. septembar!!!

Poštovani,

Obavještavamo vas da se ovogodišnji 14-ti "KASTEL ROCK FEST" koji je trebao biti održan 16. avgusta 2019. godine u Banjaluci, na ljetnoj sceni tvrđave KASTEL, zbog slučja "više sile" PROLONGIRA za 7. septembar 2019. godine.

Kupljene ulaznice vrijede i za novi termin, a oni koji žele izvršiti povrat iste mogu vratiti na prodajnim mjestima gdje su ih i kupili.

Hvala na razumjevanju!
Step 1/4
By clicking on the Buy a Ticket button you begin the process of purchasing tickets for NO. XIV KASTEL ROCK FEST - PROLONGIRANO !! on 07.09.2019. 20:00 .
Buy a ticket
Outlets
In addition to online shopping, you can also purchase your tickets at our points of sale. Look for us in your city too!