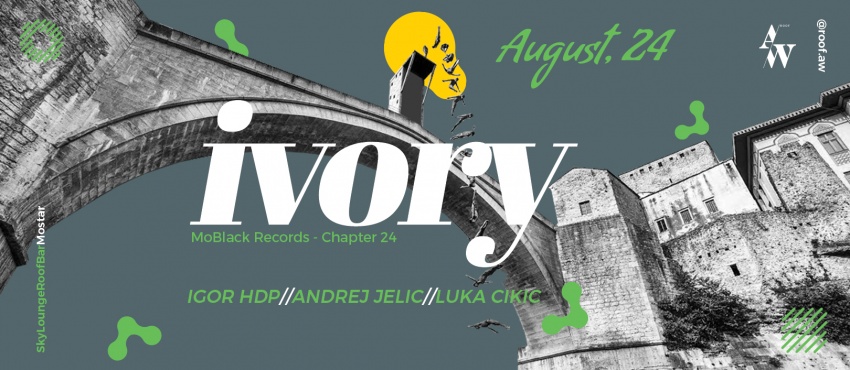 ROOF AW pres. IVORY Azzur Mostar @Sky Lounge Bar
Date: 24/08
Location: Sky Lounge Bar, Mostar
ROOF AW pres. IVORY /ITA / ▶ Azzur ▶ MoBlack Records▶
.
KADA: Subota, 24 // 08 // 2019
GDJE: SKY LOUNGE ROOF BAR // MOSTAR
.
MAIN EVENT // SKY LOUNGE BAR // Mostar //

Ivory ▸Azzur▸MoBlack Records
ROOF AW ▸Mostar
Luka Cikic ▸Banja Luka
START// 15:00h
.
AFTERPARTY // Blagaj //
Info soon!
START// 00:00h
.
Tickets:

Early bird │15 KM
At the door │25 KM

Prepare for another music marathon of over 33 hrs non stop music:

2 Locations // Main event + After Party
2 Stages
2 many DJ's
Vip Zones
Pool
Chill Zone
Snack Bar

Main event Location: Sky Lounge Roof Bar Mostar
Afterparty event Location: https://bit.ly/2WdQcU6

Powered by:
Red Bull / Hendrick's / Beck's / Renault BIH / Bljesak.info / Fashion.Beauty.Love / Life.ba / RDV

More infos:
https://www.facebook.com/roofaw
https://www.facebook.com/ivorymakeslove

Step 1/4
By clicking on the Buy a Ticket button you begin the process of purchasing tickets for ROOF AW pres. IVORY Azzur Mostar on 24.08.2019. 15:00 .
Buy a ticket
Outlets
In addition to online shopping, you can also purchase your tickets at our points of sale. Look for us in your city too!