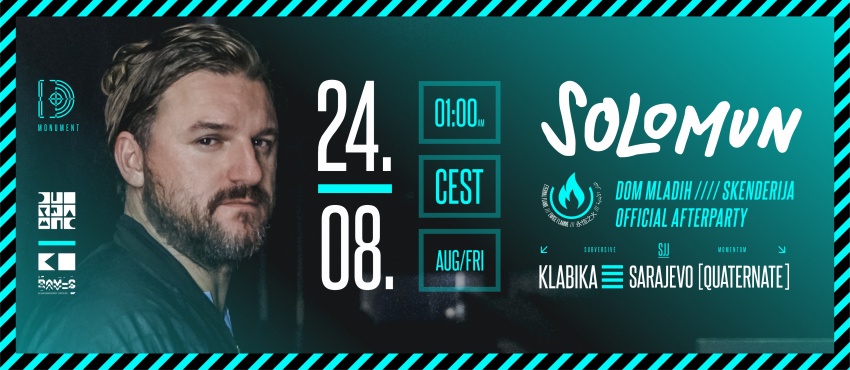 Solomun IIII Klabika Sarajevo Quaternate Afterparty Dom Mladih @Dom Mladih Sarajevo
Date: 24/08
Location: Dom Mladih Sarajevo, Sarajevo
Solomun IIII Klabika [Sarajevo Quaternate]- Afterparty (Dom Mladih)
Nakon Solomunovog besplatnog nastupa ispred Vječne Vatre od 23:30 do 02:30 nastavak eventa će se održati u velikoj sali Dom-a Mladih u Skenderiji. Ovo je prvi put da će Solomun nastupiti na dvije lokacije u Sarajevu i pokazati zašto ga se mnogi upravo najviše sjećaju po afterparty-ima. Ovo je i izvanredna prilika za ljubitelje njegove muzike da u istoj uživaju u privatnijem okruženju.

Broj karata je ograničen, zato požurite i rezervišite svoje mjesto na afterparty-u i plešite uz Solomuna do ranih jutarnjih sati.
Ulaz od: 01.00h
Lineup:
01:00 – 02.00 B2B DJ'S / TBA
02:00 – 03.00 B2B DJ'S / TBA
03:00 – 03.30 DJ / TBA
03:30 – END Solomun
Karte (broj ograničen):


01.08. / 24h / KLB Serija 1- 30,00 KM / Sold out!

02.08 – 16.08 / KLB Serija 2- 35,00 KM / Sold out!
16.08 – 22.08 / KLB Serija 3- 40,00 KM / Sold out!

Uzevši u obzir nivo interesovanja za event moguća je brza prodaja ulaznica te Vas molimo da reagujete na vrijeme. U slučaju rasprodanosti eventa ulaznice nećete biti u mogućnosti kupiti u Domu Mladih.
Outlets
In addition to online shopping, you can also purchase your tickets at our points of sale. Look for us in your city too!