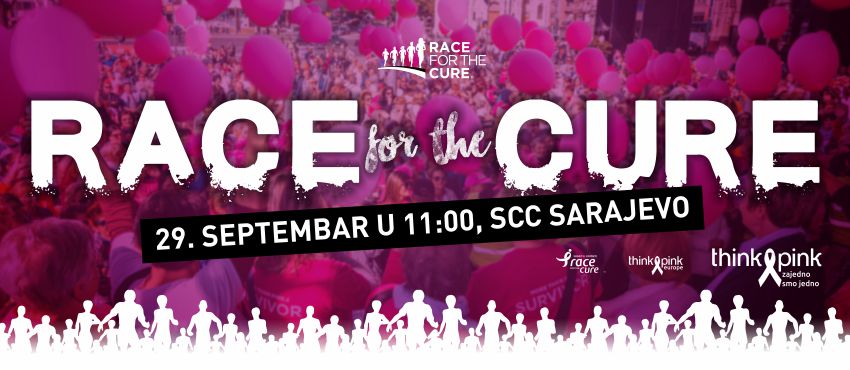 RACE FOR THE CURE @SCC, Sarajevo
Date: 29/09
Location: SCC, Sarajevo, Sarajevo
"Race for the cure" će se održati 29.9.2019. ispred Sarajevo City Centra u 11:00 sati. Ove godine očekujemo učešće više od 9000 građana.
Registracija je 10KM, a na poklon dobijate brendiranu majicu.
Kompletan iznos od registracija usmjeravamo za mamografske preglede u ruralnim područjima Bosne i Hercegovine kao i za paketiće za svaku novooperisanu ženu u našoj državi.
Kupovinom vaučera u sistemu www.kupikartu.ba se registrujete, a mi ćemo vašu majicu sačuvati za vas do 29. septembra.
Svaka registrirana osoba će 29.09.od 9:00h na pultovima koji će biti stacionirani ispred SCC-a uz prikazan vaučer, koji će prethodno dobiti na email, moći preuzeti svoju majicu.
Veličine majica su: S, M, L, XL
Vidimo se 29. septembra u Sarajevu u 11:00h.
THINK PINK
Step 1/4
By clicking on the Buy a Ticket button you begin the process of purchasing tickets for RACE FOR THE CURE on 29.09.2019. 11:00 .
Buy a ticket
Outlets
In addition to online shopping, you can also purchase your tickets at our points of sale. Look for us in your city too!