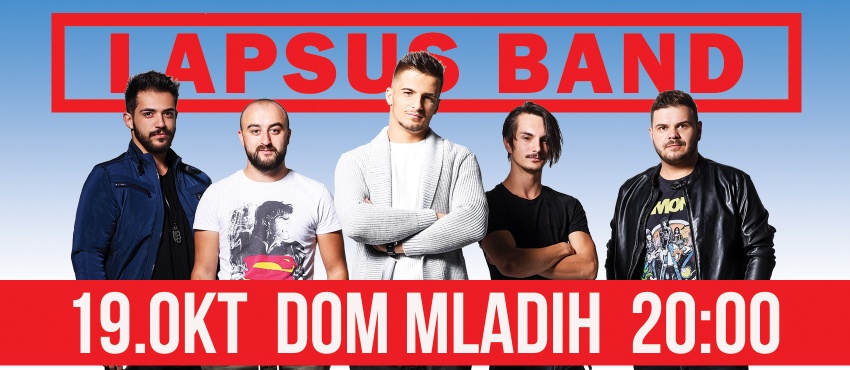 LAPSUS BAND @Dom Mladih Sarajevo
Date: 19/10
Location: Dom Mladih Sarajevo, Sarajevo
Lapsus band se vraća u Sarajevo!!!
Nakon prošlogodišnjeg rasprodanog koncerta, Lapsus band obećava spektakl u Domu mladih.
Odlični i nikad popularniji Lapsus Band, za čije koncerte širom regiona se traži ulaznica više a čiji spotovi na Youtube imaju desetine miliona pregleda, najavljuje veliki koncert u Sarajevu. 19. oktobra sa početkom u 20:00 sati, Lapsus će nastupiti u sarajevskom Domu mladih.
Lapsus band obećava noć za pamćenje ispunjenu njihovim velikim hitovima poput "Budalo", "Hendikepiran", "Santa leda", "Lažo" kao i poslijednjim singlom "Skote još te volim".
Za početak, u prodaju se pušta prvi kontigent sa promo cijenom od 10KM. VIP ulaznice će biti puštene naknadno.
Facebook event: https://www.facebook.com/events/340400413377072/
Step 1/4
By clicking on the Buy a Ticket button you begin the process of purchasing tickets for LAPSUS BAND on 19.10.2019. 20:00 .
Buy a ticket
Outlets
In addition to online shopping, you can also purchase your tickets at our points of sale. Look for us in your city too!