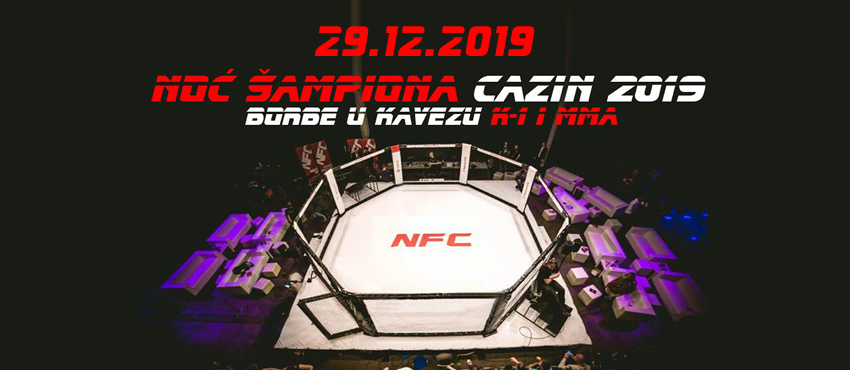 NOĆ ŠAMPIONA :: CAZIN 2019 @Sportska dvorana Cazin
Date: 29/12
Location: Sportska dvorana Cazin, Cazin
Krajem 2019. godine, tačnije 29. decembra, u Cazinu će se održati spektakularan događaj. Publika će moći uživati u borbama u kavezu MMA boraca, kao i mečevima u kickboxingu.
Kako je potvrdio organizator i promotor manifestacije Nijaz Mujić, gledatelji će imati priliku da vide deset vrhunski okršaja.
Zamišljeno je da u ringu budu borbe između boraca iz Bosne i Hercegovine i onih iz Evrope.
''Dolazak u BiH ovih dana potvrdit će borci iz evropskih zemalja. Vjerujem kako će svi koji dođu imati priliku da uživaju. Imamo dosta vremena da pripremimo sve do najsitnijih detalja kako bi ovaj događaj bio nešto što se pamti'', istakao je Mujić.
Ulaznice u prodaji u kompletnoj prodajnoj mreži KupiKartu.ba! Spisak prodajnih mjesta možete pogledati OVDJE.
Step 1/4
By clicking on the Buy a Ticket button you begin the process of purchasing tickets for NOĆ ŠAMPIONA :: CAZIN 2019 on 29.12.2019. 19:00 .
Buy a ticket
Outlets
In addition to online shopping, you can also purchase your tickets at our points of sale. Look for us in your city too!