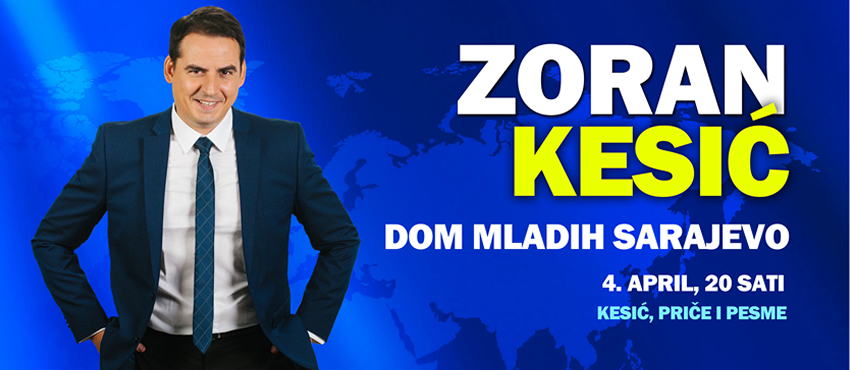 ZORAN KESIĆ @Dom Mladih Sarajevo
Date: 04/04
Location: Dom Mladih Sarajevo, Sarajevo
POPULARNI SATIRIČAR I TV VODITELJ ZORAN KESIĆ 4. APRILA DOLAZI U DOM MLADIH
Zoran Kesić dolazi u Sarajevo 4. aprila, a nastupit će u Domu mladih. Popularni kritičar i voditelj emisije "24 minuta" predstavit će se sa svojom priredbom "Kesić, priče i pesme".

Zorana Kesića poznajemo kroz satiričnu emisiju "24 minuta", gdje na originalan način analizira aktuelna politička, kulturna i društvena dešavanja u Srbiji, Bosni i Hercegovini i ostalim zemljama u okruženju.
<![if !supportLineBreakNewLine]>
<![endif]>
"Kesić, priče i pesme" je humoristička priredba koja kombinuje elemente stand up komedije, pozorišta, improvizacije, kabaretskog programa sa izvođenjem pjesama i interakcije sa publikom.
U svojoj priredbi, Kesić na zabavan, satiričan i oštar način obrađuje teme poput politike, korupcije, religije, nacionalnih mitova, penzionera, muško ženskih odnosa, umijetnosti, medija I društvenih mreža. Kesić se poigrava sa stereotipima, balansira na granici politički korektnog, ne plašeći se da u satiričnom maniru otvori i najbolnije teme.
Za svaki nastup u drugoj državi autor priprema dio materijala namijenjen baš toj državi i gradu u kome nastupa.

Predstava počinje u 20 sati.
Kartu možete kupiti na platou Skenderija, BKC Artikulacija ili preko sistema kupikartu.ba.
<![if !supportLineBreakNewLine]>
<![endif]>

<![if !supportLineBreakNewLine]>
<![endif]>
Step 1/4
By clicking on the Buy a Ticket button you begin the process of purchasing tickets for ZORAN KESIĆ on 04.04.2020. 20:00 .
Buy a ticket
Outlets
In addition to online shopping, you can also purchase your tickets at our points of sale. Look for us in your city too!