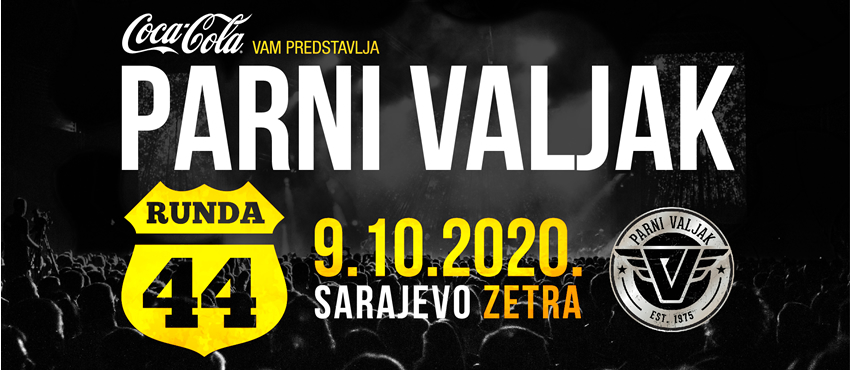 PARNI VALJAK @ZETRA - Juan A. Samaranch
Date: 09/10
Location: ZETRA - Juan A. Samaranch, Sarajevo
Obavijest! Novi datum koncerta!
9. OKTOBAR, DVORANA ZETRA
Dragi naši, kako smo vas već i obavijestili, koncert u dvorani Zetra zakazan za 26.06 nažalost je odgođen. Zbog još uvijek aktuelnih ograničenja javnih okupljanja, koncert se ne može održati u zakazanom terminu. Nadamo se da će situacija brzo stabilizovati i u skladu sa tim smo odredili novi datum koncerta.
Novi datum u Sarajevu je 9. oktobar – dvorana Zetra.
Kupljene ulaznice vrijediće i za novi datum koncerta. Od srca zahvaljujemo svima koji su uz nas i nisu vratili svoje ulaznice, a takvih je velika većina.
Neopisivo se radujemo ponovom druženju i nadamo se da će i to uskoro doći na red.
Kupljene ulaznice važe za novi datum, povrat novca će biti moguć od 25.06. do 01.07.
Za online kupljene ulaznice potrebno je poslati zahtjev za povrat novca na email [email protected]
Za kupljene ulaznice na prodajnom mjestu potrebno je poslati sliku ulaznica i broj transakcijskog računa na mail [email protected]
Step 1/4
By clicking on the Buy a Ticket button you begin the process of purchasing tickets for PARNI VALJAK on 09.10.2020. 20:00 .
Buy a ticket
Outlets
In addition to online shopping, you can also purchase your tickets at our points of sale. Look for us in your city too!