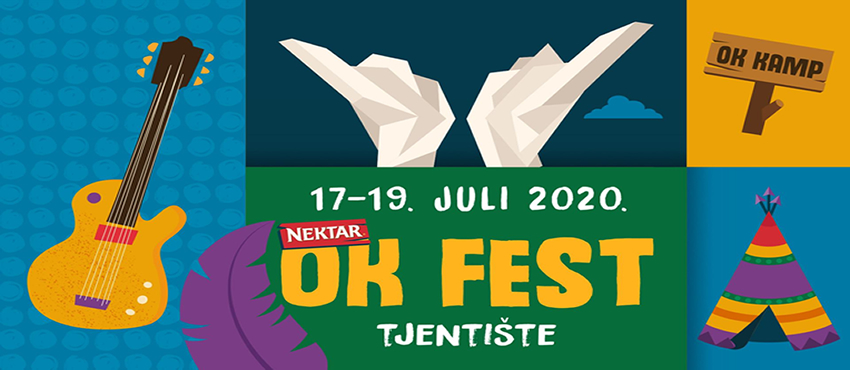 Nektar OK FEST @NP Sutjeska - Tjentište
Date: 17 - 19/07
Location: NP Sutjeska - Tjentište, Tjentište
Nektar OK FEST
17/18/19 juli 2020.
Lokacija: Tjentište, NP Sutjeska
OK EXTRA PONUDA
Paket: OK kamp
Cijena: 35,00 KM
Kupovinom paketa "OK kamp" kupac stiče pravo boravka u festivalskom kampu od 16.07. do 20.07. Kupac je dužan odštampati potvrdu o kupovini koju je dobio od servisa kupikartu.ba putem maila (E-Ticket). Ovu potvrdu kupac će zamjeniti za narukvicu na recepciji OK kampa na Tjentištu. Narukvica omogućava pristup svim sadržajima i programima unutar festivalske zone na Tjentištu tokom trajanja Nektar OK Festa 2020.
Nektar OK Fest 2020
I ovoga ljeta najbolja zabava i avantura, očekuje vas na sedmom po redu "Nektar OK Festu". Neka juli mjesec i ove godine bude rezervisan za nezaboravan provod na Tjentištu u Nacionalnom parku Sutjeska 17/18/19 jula
Odlična muzika i zabava, najbolji izvođači, avantura, druženje, kampovanje, rafting, planinarenje te upoznavanje sa magičnom prirodom i ponudom NP Sutjeska samo su dio onoga što vas i ove godine očekuje na Tjentištu.
#budiOK dođi na Nektar OK Fest
OK EXTRA ponuda važi do isteka zaliha
Step 1/4
By clicking on the Buy a Ticket button you begin the process of purchasing tickets for Nektar OK FEST on 17.07.2020. 10:00 .
Buy a ticket
Outlets
In addition to online shopping, you can also purchase your tickets at our points of sale. Look for us in your city too!