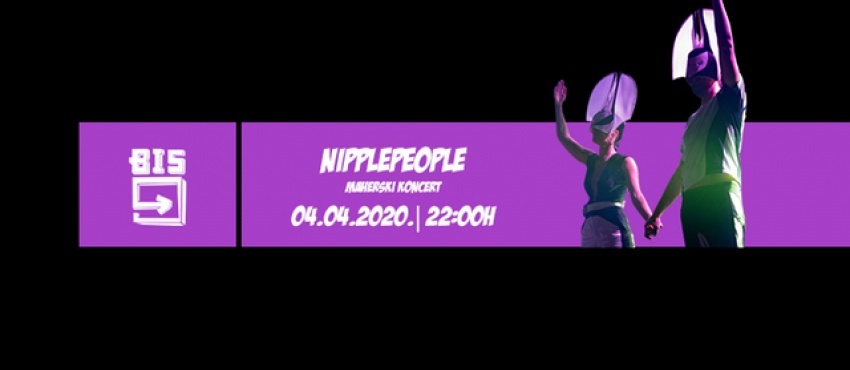 Nipplepeople u BISu! @Brew Imperial Society
Date: 04/04
Location: Brew Imperial Society, Sarajevo
Došli su nam u 2019., a sad je vrijeme za 2020.!

04.04. [ u 22:00h] je rezervisan za Nipplepeople!

Electro pop duo u martu kreće na svoju prvu veliku regionalnu turneju pod nazivom #softcore 2020. Turneja kreće iz Zagreba, a u aprilu dolaze u Sarajevo! Atmosfera koju smo doživjeli prošle godine u BISu je bila nevjerovatna!

Ako se pitate kako će vam biti na ovom preMAHERSKOM koncertu? Podijelit' ćemo na ovoj event stranici samo mali djelić atmosfere na njihovom RASPRODATOM koncertu u BISu prošle godine.
Podijelili su s nama da nas očekuje vrhunski show, tako da – ako ste nam se pirdružili prošle godine na njihovom maherskom koncertu, slobodno rezervišite svoje mjesto i za ovaj jer nas očekuje jedno drugačije iskustvo, a znate da su Nipplepeople Maheri za to!

Ulaznice su u prodaji po cijeni od 15KM parter, 20KM balkon, s tim da ćemo #zaraju "pustiti" određenu količinu EARLY BIRD karti po cijenama:

10KM - parter
15KM - balkon

Eto ga - raja, sve znate! Nipplepeople nam OPET dolazi u raj'voSa, i šta god da očekujete, povećajte – jer tako će nam biti – STRAVA!

04.04.2020. od 22:00h - Brew Imperial Society!
Step 1/4
By clicking on the Buy a Ticket button you begin the process of purchasing tickets for Nipplepeople u BISu! on 04.04.2020. 22:00 .
Buy a ticket
Outlets
In addition to online shopping, you can also purchase your tickets at our points of sale. Look for us in your city too!