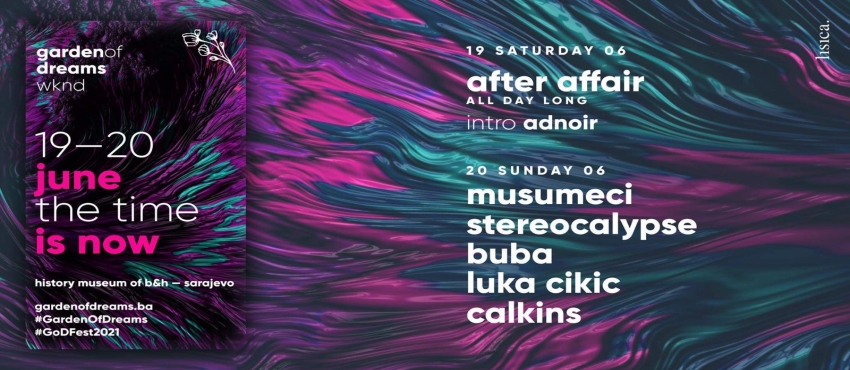 GARDEN OF DREAMS @HISTORIJSKI MUZEJ BIH
Date: 19 - 20/06
Location: HISTORIJSKI MUZEJ BIH, Sarajevo
The Time Is Now — Garden of Dreams Weekend
Date & Time
Saturday, June 19th from 2 pm. - 11 pm.
Sunday, June 20th from 2 pm. - 11. pm.
Line up — Saturday
After Affair — 5th Anniversary, All Day Long
Adnoir — Intro set.
Line up — Sunday
Musumeci
Stereocalypse
Buba b2b Luka Cikic
Calkins
Tickets
25 KM — 1 event
40 KM — Weekend ticket / 2 events
@kupikartu ba OR at the door
Location
History Museum of B&H, 71000 Sarajevo
More info
@ Garden of Dreams fb & Insta
___________________
#INFO: Ulaz na event će biti moguć po posebno definisanom protokolu u koji će biti uključen i brzi test na Covid-19 za svakog posjetioca kome bude potreban. Više detalja o tome u narednim danima.
Step 1/4
By clicking on the Buy a Ticket button you begin the process of purchasing tickets for GARDEN OF DREAMS on 19.06.2021. 14:00 .
Buy a ticket
Outlets
In addition to online shopping, you can also purchase your tickets at our points of sale. Look for us in your city too!