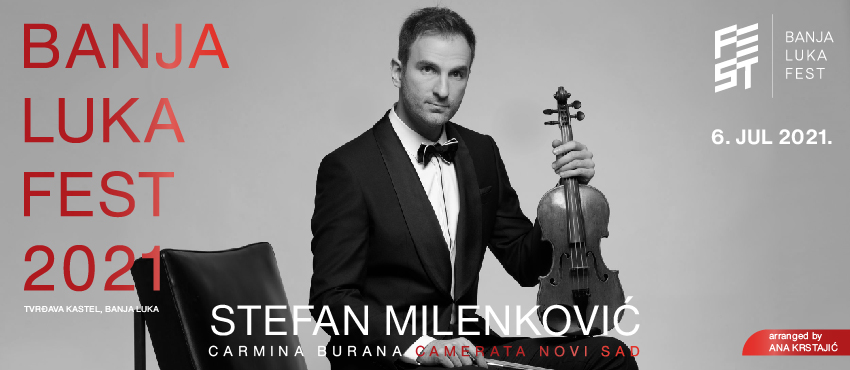 STEFAN MILENKOVIĆ @Tvrđava Kastel
Date: 06/07
Location: Tvrđava Kastel, Banja Luka
SVEČANO OTVARANJE BANJA LUKA FEST 2020
Jedno od najbrilijatnijih djela 20.vijeka "Carmina Burana"- Carla Orfa, aranžman Ana Krstajić u maestralnom izvođenju izuzetnog umjetnika, jednog od najpoznatijih violinista Stefana Milenkovića.
Otvorena scena tvrđave Kastel, kamerni orkestar Camerata iz Novog Sada koji će sa virtuozom na violini izvesti i djela Sindinga, Gershwina, Piazzolle i grupe Queen.
Step 1/4
By clicking on the Buy a Ticket button you begin the process of purchasing tickets for STEFAN MILENKOVIĆ on 06.07.2021. 20:00 .
Buy a ticket
Outlets
In addition to online shopping, you can also purchase your tickets at our points of sale. Look for us in your city too!