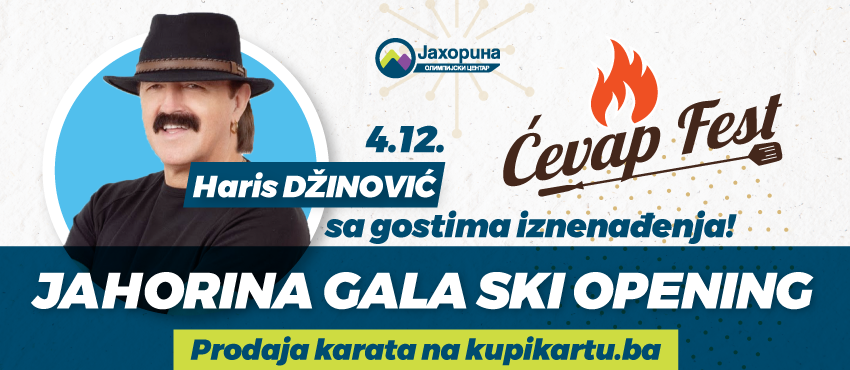 HARIS DŽINOVIĆ @O.C. Jahorina
Date: 04/12
Location: O.C. Jahorina, Jahorina

Olimpijski centar Jahorina organizuje spektakularno otvaranja nove zimske sezone na Jahorini. Od 3. do 5. decembra 2021. godine Jahorina će ponovo biti centar najbolje zabave u regionu.
Ovogodišnji SKI OPENING na JAHORINI obilježiće tri dana raznovrsnih GALA događaja. Prvi put na JAHORINI pripremamo najveći regionalni gastronomski festival ĆEVAP FEST.
Ćevap Fest okupiće najbolje ćevapdžije iz cijele regije, dok će skijaši i posjetioci moći uživati u okusima različitih vrsta ćevapa i biraće ih po svom ukusu.
Ćevap Fest, gastronomski festival pratiće pažljivo osmišljen muzičko - zabavni dnevni program koji počinje u petak 3.12. u 16.00 sati i trajaće tri dana!
Noćni život i jedinstvena zabava na Jahorini i ovaj put povjerena je najboljima. Toni Cetinski, Haris Džinović i Saša Matić održat će tri velika muzička koncerta na najljepšoj olimpijskoj planini- JAHORINI.
Budi dio jahorinske priče, dugo se uživa i pamti!!!
Step 1/4
By clicking on the Buy a Ticket button you begin the process of purchasing tickets for HARIS DŽINOVIĆ on 04.12.2021. 20:00 .
Buy a ticket
Outlets
In addition to online shopping, you can also purchase your tickets at our points of sale. Look for us in your city too!