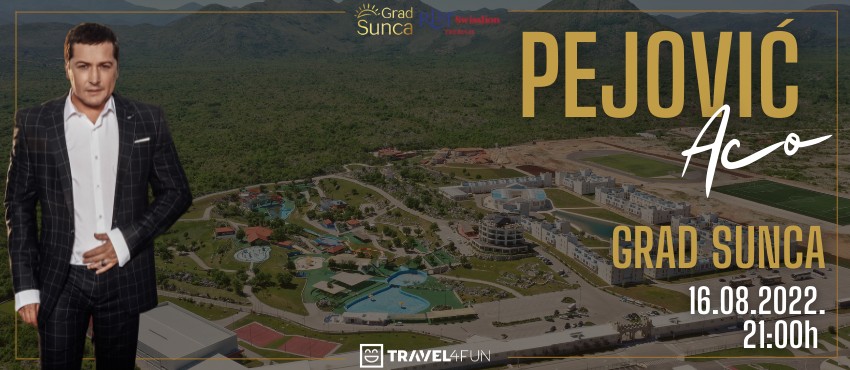 ACO PEJOVIĆ @GRAD SUNCA
Date: 16/08
Location: GRAD SUNCA, Trebinje
PRODAJA ULAZNICA NA SAMOM DOGAĐAJU - GRAD SUNCA TREBINJE
Njegove pjesme su dobro poznate svim generacijama, a njegov glas plijeni gdje god se pojavi!
ACO PEJOVIĆ
16.08.2022. GRAD SUNCA, TREBINJE.
Turistički kompleks GRAD SUNCA organizuje veliki muzički spektakl 16.08., jedna od naših najvećih muzičkih zvijezda, Aco Pejović, ovo ljeto zajedno sa vama pjevaće svoje najveće hitove:
- DA SI TU,
- MAKAR ZADNJI PUT,
- SVE TI DUGUJEM,
- NE PITAJ,
- GODINA I JAČE,
- IZMEĐU NAS,
- JEDINO MOJE MILO,
- NEMA TE NEMA i drugi veliki hitovi.
Cijene karata:


- STANDARD PROMO 15KM
- FAN PIT 30KM
- VIP 50KM
- VIP EXCLUSIVE 100KM
KARTE U PRODAJI OD 03.05.2022.
Prodajna mjesta:


1. SL PANORAMA HOTEL , DRAŽENSKA GORA BB, GRAD SUNCA
2. SL INDUSTRY HOTEL, NIKŠIĆKI PUT BB
3. SLATKA KUĆA, Trebinje centar preko puta Gradske trznice
4. TRAVEL 4 FUN, Banja Luka
5. KUPIKARTU.BA
Vaš Grad Sunca
Outlets
In addition to online shopping, you can also purchase your tickets at our points of sale. Look for us in your city too!