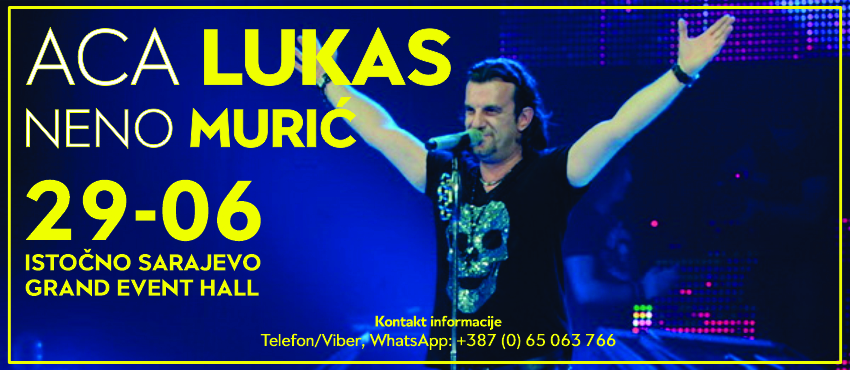 ACA LUKAS & NENO MURIĆ @KRUPAC BB, ISTOČNO NOVO SARAJEVO
Date: 29/06
Location: KRUPAC BB, ISTOČNO NOVO SARAJEVO, Istočno Sarajevo
Aca Lukas
Mjesto: Krupac bb, Istočno Novo Sarajevo
Jedna od najvećih muzičkih zvijezda pravi najveću žurku na Balkanu!
Aca Lukas 29. juna u svečanoj sali "Grand Event Hall" Krupac bb, Istočno Novo Sarajevo. Uz pratnju Nene Murića napraviće najveću žurku na Balkanu!
Cijena ulaznica


VIP - 100,00 KM (stolovi uz binu sa stolicom)
Regular - 40,00 KM (stajanje)
Kontakt informacije


Telefon/Viber, WhatsApp: +387 (0) 65 063 766
Step 1/4
By clicking on the Buy a Ticket button you begin the process of purchasing tickets for ACA LUKAS & NENO MURIĆ on 29.06.2022. 22:00 .
Buy a ticket
Outlets
In addition to online shopping, you can also purchase your tickets at our points of sale. Look for us in your city too!