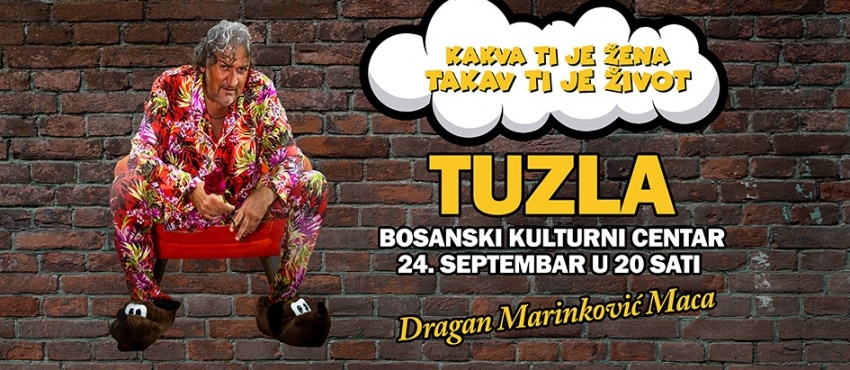 KAKVA TI JE ŽENA TAKAV TI JE ŽIVOT - TUZLA @BKC - TUZLA
Date: 24/09
Location: BKC - TUZLA, TUZLA
KAKVA TI JE ŽENA TAKAV TI JE ŽIVOT –BKC TUZLA 24. SEPTEMBAR
Predstava Dragana Marinkovića Mace je najpopularnija regionalna predstava. Predstava koja nosi naziv Kakva ti je žena takav ti je život puni pozorišne dvorane u Bosni i Hercegovini, Hrvatskoj i Srbiji.

Odgovore na vječna pitanja o odnosu između muškarca i žene, Dragan Marinković-Maca donosi na originalan i samo njemu svojstven način.
Predstava će igrati 24. septembra u 20 sati u Bosanskom kulturnom centru TK.
''Kakva ti je žena-takav ti je život'' predstava je koja će Vas oraspoložiti, nasmijati, zabaviti i zasigurno Vas neće ostaviti ravnodušnim.
Gledanje predstave je džabe. Samo se karta plaća.
Outlets
In addition to online shopping, you can also purchase your tickets at our points of sale. Look for us in your city too!