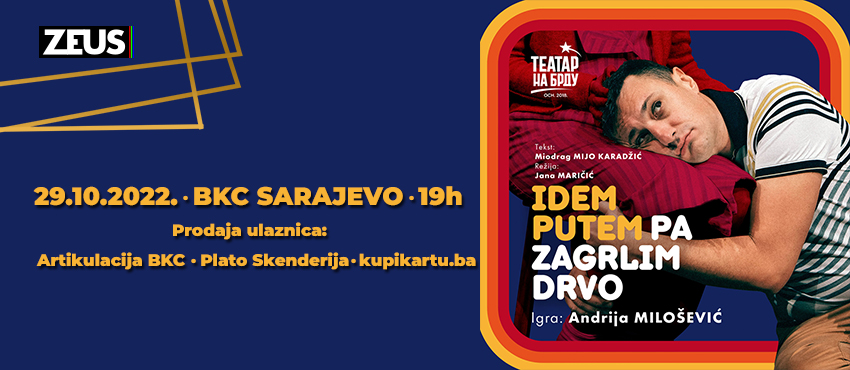 ANDRIJA MILOŠEVIĆ - IDEM PUTEM PA ZAGRLIM DRVO @BKC - SARAJEVO
Date: 29/10
Location: BKC - SARAJEVO, Sarajevo
Predstava Andrije Miloševića "Idem putem pa zagrlim drvo" urnebesno je komična priča o jednom sinu kojem mama traži pravu ženu.
Kandidatkinje se smjenjuju, a on i mama doživljavaju nevjerovatna iskustva. Međutim, kada na vrata zakuca ona "prava", naš junak će upoznati sudbinu u svoj njezinoj raskoši…
Prodaja ulaznica: Artikulacija BKC | Plato Skenderija | U sistemu kupikartu.ba
Step 1/4
By clicking on the Buy a Ticket button you begin the process of purchasing tickets for ANDRIJA MILOŠEVIĆ - IDEM PUTEM PA ZAGRLIM DRVO on 29.10.2022. 19:00 .
Buy a ticket
Outlets
In addition to online shopping, you can also purchase your tickets at our points of sale. Look for us in your city too!