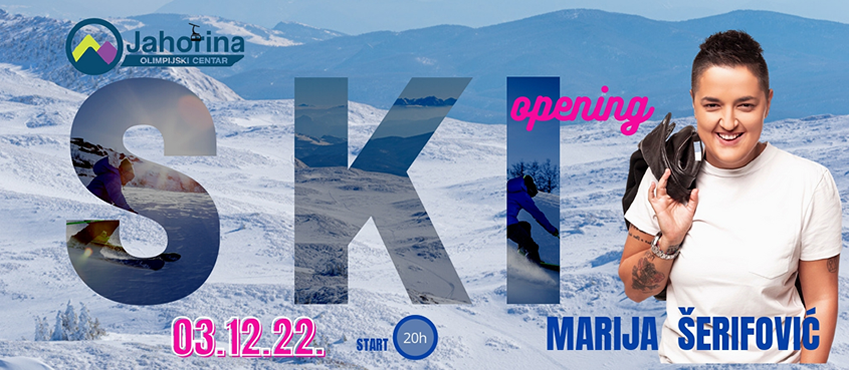 JAHORINA SKI OPENNING - MARIJA ŠERIFOVIĆ @Jahorina
Date: 03/12
Location: Jahorina, Jahorina
Da li ste spremni za zimsku sezonu 22/23 na Jahorini?!
Sa velikim nestrpljenjem očekujemo vas u još jednoj, fenomenalnoj sezoni na vašoj omiljenoj, olimpijskoj planini, čije će vam staze omogućiti neprikosnoveno skijanje, neizostavan, fantastičan provod i stvaranje prekrasnih uspomena! Otvaranje zimske sezone uz "Jahorina Ski Opening" manifestaciji održaće se u periodu od 1. do 4. decembra. U velikom stilu i ovu zimu otvaraju najpoznatije muzičke zvijezde regiona.
Koncerte na lokaciji koncertnog šatora na kaskadnom parkingu, u neposrednoj blizini staze Poljice, 2.12, otvoriće rok bend čiji se nastup na Jahorini sa nestrpljenjem već duži niz godina očekuje, fantastično "Prljavo kazalište"!
3.12. obilježiće nastup neprikosnovene Marije Šerifović! Očekuje nas veče magične muzike i još magičnijeg izvođenja iste od strane jednog od najvećih muzičara Regiona i Evrope, ludog provoda i pregršt smijeha, kao i divnih uspomena, koju ne smijete propustiti!
"Jahorina Ski Opening", u velikom stilu, 4.12, zatvoriće fenomenalni Željko Joksimović, koji će svim prisutnima, prirediti nezaboravnu zabavu!
Step 1/4
By clicking on the Buy a Ticket button you begin the process of purchasing tickets for JAHORINA SKI OPENNING - MARIJA ŠERIFOVIĆ on 03.12.2022. 20:00 .
Buy a ticket
Outlets
In addition to online shopping, you can also purchase your tickets at our points of sale. Look for us in your city too!