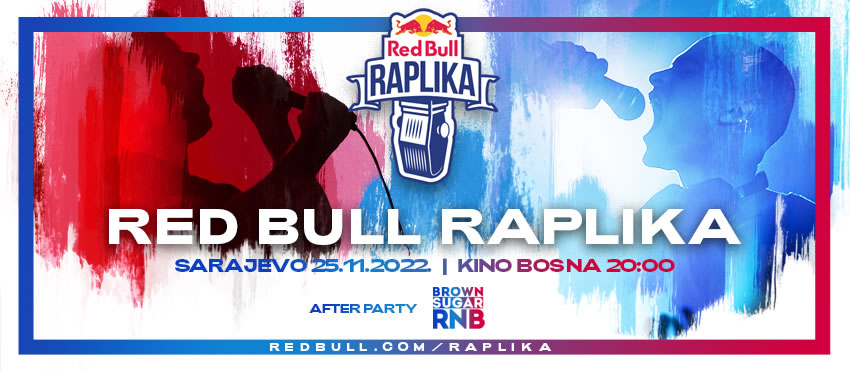 RED BULL RAPLIKA 2022 @Kino Bosna
Date: 25/11
Location: Kino Bosna, Sarajevo
Red Bull RapLika je regionalno poznato takmičenje koje godinama oduševljava publiku, a kroz koje su se proslavili i izgradili imena u muzičkom svijetu, brojni mladi amateri.
Rječiti battleovi, teški punchevi i nevjerovatna rima ono su što čini ovo takmičenje posebnim. Red Bull RapLika nudi priliku MC-ijevima da pokažu svoj skill, stil i rime. Riječ je o verbalnom dvoboju jedan-na-jedan u kojem MC-ijevi nastoje "poraziti" jedan drugoga improviziranim rimama koje su smislili na licu mjesta, a o čijim sudbinama odlučuju sudije - poznata lica regionalne hip-hop scene. Svaki od takmičara ima zadatak da zada šta bolju rapliku na protivnikove riječi, da ga pobijedi u dvoboju i osvoji titulu šampiona.
Verbalni okršaj na pozornici ove godine će se održati u sarajevskom Kinu Bosna, u petak, 25.11. od 20 sati. Nakon takmičenja, party se nastavlja uz brojne nastupe i popularni Brown Sugar RNB After Party.
Više informacija možete potražiti na www.redbull.com/ba-bs
Outlets
In addition to online shopping, you can also purchase your tickets at our points of sale. Look for us in your city too!