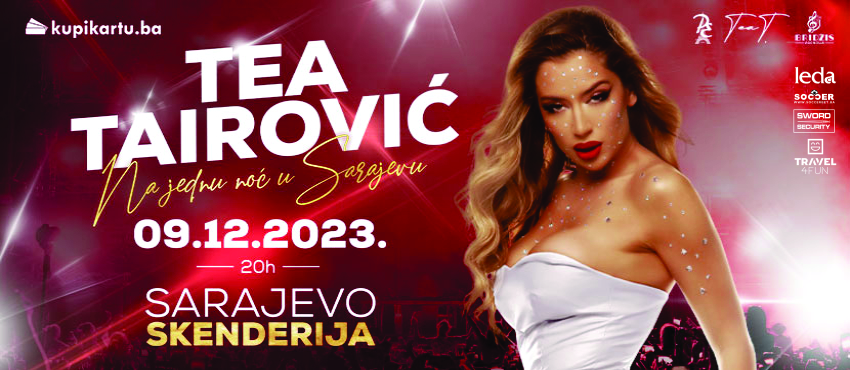 TEA TAIROVIĆ @Dvorana Mirza Delibašić
Date: 09/12
Location: Dvorana Mirza Delibašić, Sarajevo
Trenutno jedna od najaktulenijih regionalnih pjevačica Tea Tairović, koja s pravom nosi titulu, po mišljenju njenih fanova, najpopularnije pjevačice, sprema opet nešto novo.
Naime, nakon spektakularnog koncerta na beogradskom Tašu, Tea će konačno zapjevati u Sarajevu!
U decembru Tea Tairović najavljuje nezaboravan provod u Sarajevu, u dvorani Skenderija. S velikim nestrpljenjem čeka 9. decembar kada je planiran spektakl u šeheru.
Priznaje da joj je nakon Beograda, velika želja sarajevski koncert koju će, uskoro, ispuniti kako sebi, tako i mnogobrojnim fanovima koji jedva čekaju da se druže s njom.
-Vidimo se 9.12 u Skenderiji s početkom u 21 sat – poručila je Tea.
Karte se mogu kupiti preko platforme Kupikartu ba.
Step 1/4
By clicking on the Buy a Ticket button you begin the process of purchasing tickets for TEA TAIROVIĆ on 09.12.2023. 20:00 .
Buy a ticket
Outlets
In addition to online shopping, you can also purchase your tickets at our points of sale. Look for us in your city too!