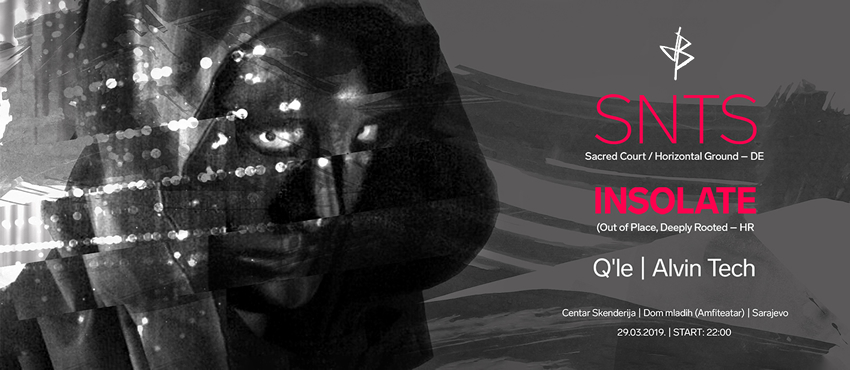 SNTS & Insolate @Dom Mladih - Amfiteatar
Datum: 29/03
Mjesto: Dom Mladih - Amfiteatar , Sarajevo
LINE UP:
—
SNTS
—
Insolate
—
Q'le
—
Alvin Tech
LOCATION:
Centar Skenderija — Dom mladih (Amfiteatar) — Terezija bb, Sarajevo
TICKETS:
presale starts January 28th, at noon
super limited offer — first 50 tickets — 9 KM / SOLD OUT!
promo price — 100 tickets — 19 KM
/ SOLD OUT!
regular price — 24 KM
final price — 30 KM
Tickets available online via
http://www.kupikartu.ba/
& in stores
http://www.kupikartu.ba/page/listaagencija
Event is organized by
Decibel
.
Visuals by Nađa Čengić.
— — —
Little is known of masked techno artist SNTS, which in today's age is a rare and welcomed feat. Of course, in recent times, donning a mask and keeping your identity anonymous has been seen as somewhat of a gimmick, little more than a marketing ploy to build hype. SNTS feels different, however—his serrated productions fit perfectly with the shadowy, sonic sorcerer image he's meticulously crafted since debuting in 2012 on his label of the same name. Every aspect of the project is a considered piece of the puzzle, from the haunted, frayed textures and relentless rhythms of his music to the nightmarish images adorning the record sleeves. Take 2016's Losing Sight LP, for example, which was recorded at lower BPMs in a cave — to catch the appropriate acoustics for the project—using numerous analog drum machines, modular synths, guitar, distortion pedals, and voice recordings.
Here's what else we know: in the six years since SNTS' debut 12", we've been greeted with 10 EPs and two full-length albums on his own SNTS and Sacred Court imprints—which have also been home to artists such as Codex Empire, Alexey Volkov, OAKE, and Positive Centre—as well as Horizontal Ground, Edit Select Records, HORO, and 47. Later this month, a new EP titled Cruel Opacity will drop on SNTS, his first output on the label in over three years. Following that, SNTS will also welcome new artists to the fold, promising a focus on industrial techno, EBM, and wave-influenced sounds.
— — —
Sometimes the darkest feelings provide, in a painful paradox, the biggest of pleasures. DJ and producer Insolate demonstrates the truth of this analysis by producing rough & dark techno infused with emotion inspired by her 20 years as a DJ.
Hailing from Osijek, Croatia, on the wide Croatian East – a town that at first glance a heavy industrial atmosphere overshadows - this is where she made first steps as a DJ back in 1997 before taking over European and worldwide clubs.
She's already played some of the world's most renowned clubs including Berghain, Rex, Tresor, Under Club, Club d'Anvers, Exit Festival, Tomorrowland, ADE and Dimensions Festival plus numerous Colombian tours over the years and soon to add the United States and Argentina to the list in 2018.
As a producer, she's had a string of releases on highly respected labels including DJ Deep's Deeply Rooted and Marcelus's Singular supported and played by some of techno's finest including Laurent Garnier, DVS1, Dax J and Ilario Alicante. This year, she also released the stellar Obscure Object Of Desire EP on JoeFarr's new User Experience imprint, two original tracks that stroke the perfect balance between groove, power and emotion.
As a DJ, Insolate is well known for her no-compromise, pure-bred techno sets. It's clear to anyone who's seen her perform that she's an artist with a lot of experience but also plenty of inspiration and ambition, and a deep knowledge of techno. She is simply a natural presence in a DJ booth. If you've seen her play, you will know exactly what this means.
Prodajna mjesta
Pored online kupovine svoje karte možete kupiti i na našim prodajnim mjestima. Potražite nas i u Vašem gradu!