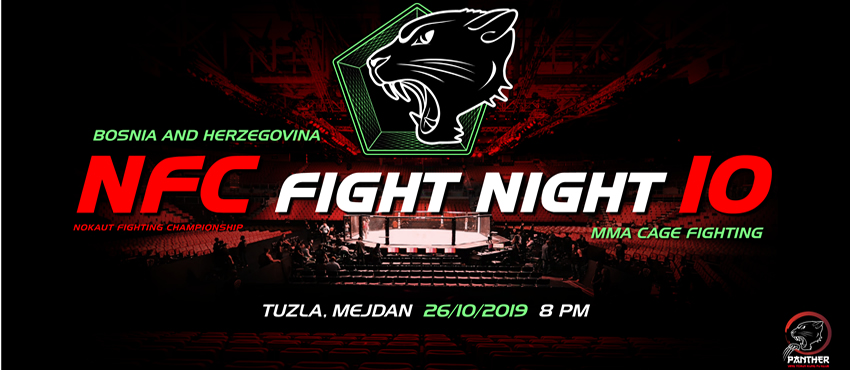 NFC FIGHT NIGHT 10 @Dvorana Mejdan
Date: 26/10
Location: Dvorana Mejdan, TUZLA
Dana 26.10.2019. sa početkom od 20:00 sati u SKPC Mejdan-Tuzla bit će upriličen do sada neviđeni spektakl u borilačkim vještinama u organizaciji VTK Panther. Noć NFC-a će svim ljubiteljima borilačkih sportova ponuditi spektakl koji će dugo pamtiti.Po prvi put u BiH će u dvorani Mejdan biti postavljen MMA kavez u koje će biti održano osam MMA borbi i u ženskoj i u muškoj kategoriji. Na ovoj posebnoj večeri učestvovaće takmičari iz desetak evropskih zemalja.Na manifestaciji će učešće uzeti i slavna svjetska imena iz mješovitih borilačkih sportova, koji su svojim sportskim postignućima i djelom obilježili MMA sport, kao što su: Semmy Schilt, Ernesto Hoost, članovi Cro Cop tima i mnogi drugi. Takođe su se najavili i gosti iz Engleske iz svijeta borilačkih i MMA sportova, koji će svojim stručnim savjetima i asistencijom značajno doprinijeti ovoj manifestaciji. Izvršni producent manifestacije je Agencija Zeus iz Tuzle.
Step 1/4
By clicking on the Buy a Ticket button you begin the process of purchasing tickets for NFC FIGHT NIGHT 10 on 26.10.2019. 20:00 .
Buy a ticket
Outlets
In addition to online shopping, you can also purchase your tickets at our points of sale. Look for us in your city too!