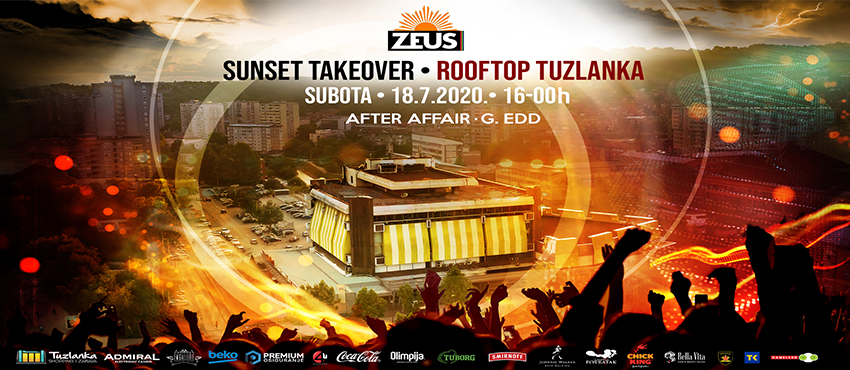 SUNSET TAKEOVER @Rooftop Tuzlanka
Date: 18/07
Location: Rooftop Tuzlanka, Tuzla
Sunset takeover • Rooftop Tuzlanka
╼╼╼╼╼╼╼╼╼╼╼╼╼
Subota 18.7. 2020.
╼╼╼╼╼╼╼╼╼╼╼╼╼
Start: 16h | End 00h
Ulaz od 16 do 20h !
╼╼╼╼╼╼╼╼╼╼╼╼╼
► After Affair
► G Edd
╼╼╼╼╼╼╼╼╼╼╼╼╼
Broj ulaznica je limitiran i samo 200 najsretnijih bit će dio najcool priče u gradu!
On line:kupikartu.ba | Limitirani broj ulaznica
CD Shop Sejo&Vili Korzo Tuzla | Limitirani broj ulaznica
╼╼╼╼╼╼╼╼╼╼╼╼╼
#ZeusLimitedevents2020 je novi koncept urbanog izlaska u Tuzli, te će biti prezentiran na unikatnim lokacijama u gradu. Nakon prvog projekta "In Heaven" predstavljamo Sunset takeover Rooftop Tuzlanka. Audio, vizuelna i scenska produkcija upotpunit će ovu zaista kvalitetnu priču. Svaki event je posebna tematska priča, unikatan je i limitiran brojem posjetitelja.
Dobro došli na #ZeusLimitedevents2020 #2
╼╼╼╼╼╼╼╼╼╼╼╼╼
Napomena:
Zbog situacije i preporuka kriznog štaba molimo vas da se pridržavate mjera sigurnosti:
Obavezna fizička distanca • Obavezna dezinfekcija • Nošenje zaštitne maske
╼╼╼╼╼╼╼╼╼╼╼╼╼
Follow us:
FB:
https://www.facebook.com/AgencijaZEUS/
IG:
https://www.instagram.com/agencijazeus/
YT:
https://www.youtube.com/user/AgencijaZeus/videos
www.zeus.ba
#ZeusLimitedevents2020 #agencijazeus #sunsettakeover #rooftoptuzlanka
Step 1/4
By clicking on the Buy a Ticket button you begin the process of purchasing tickets for SUNSET TAKEOVER on 18.07.2020. 16:00 .
Buy a ticket
Outlets
In addition to online shopping, you can also purchase your tickets at our points of sale. Look for us in your city too!