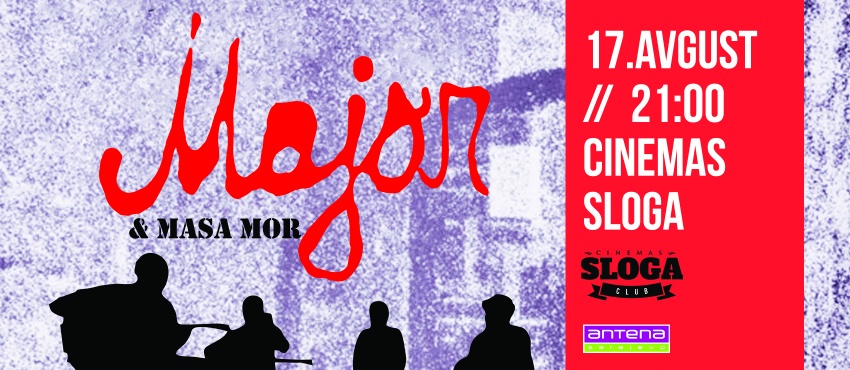 MAJOR @Cinemas Sloga
Date: 17/08
Location: Cinemas Sloga, Sarajevo
POVRATAK NEOTPISANIH - grupa MAJOR!

17. avgusta 2022. u sarajevskom klubu CINEMAS SLOGA nastupa grupa MAJOR, jedna od originalnijih pojava alternativne sarajevske rock scene. Prvi album "Son late zigi daj", i neobjavljeni dupli album "A pa pa", biće udarni repertoar na avgustovskom koncertu.
MAJOR će nastupiti u originalnom sastavu, ali i sa brojnim gostima, većinom muzičarima koji su prolazili kroz bend. Od Đanija Pervana, bubnjara koji je kasnije svirao sa Darkom Rundekom i Letu Štukama, do Darka Jelisića, legendarnog pjevača sa prve ploče.
Mnogim Sarajlijama, devedestih godina, Major je bio pandan nevremenu u kome su živjeli, sjećanje na ljepše dane, ali i vjera u budućnost.

Lider grupe, Masa Mor, nastupiće kao predgrupa svome bendu, izborom od desetak pjesama sa njegova 23 samostalna albuma, a zajedno sa Damirom Nevesinjcem iz Protesta, otpjevaće pjesmu "Poludio".

Darko Jelisić će, uz pjevanje, svirati na nekoliko pjesama bubanj, bas gitaru i sint. U svakom slučaju, mnogi znaju da se ovaj događaj ne propušta, a očekuje se i publika iz cijelog regiona.
Outlets
In addition to online shopping, you can also purchase your tickets at our points of sale. Look for us in your city too!