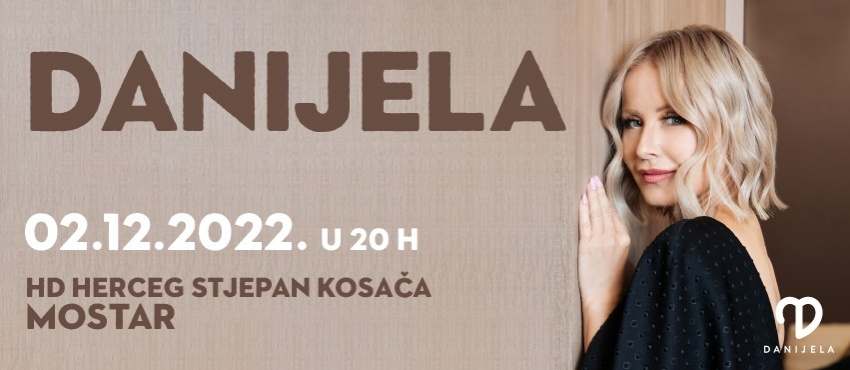 DANIJELA @H.D. herceg Stjepan Kosača
Date: 02/12
Location: H.D. herceg Stjepan Kosača, MOSTAR
Na radost brojnih ljubitelja Danijeline glazbe, Danijela će 02.12.2022. jedinstvenim koncertom pod nazivom 'Otvoreno srce', iznenaditi i razveseliti Mostar. HDHS Kosača je savršen koncertni prostor za sjajnu glazbenu priču i presjek dugogodišnje bogate i iznimne karijere.
Sreća, sloboda, osmijesi i pozitivne vibracije, obilježja su ljubavi između Danijele i njene publike koja traje tri desetljeća. Svi njeni nastupi su posebne glazbeno scenske priče, dok su odličan provod i atmosfera zagarantirani.
Nakon tri desetljeća na sceni, brojnih nagrada, predivnih koncerata i međunarodnih nastupa, Danijela s ponosom kaže da je zakoračila u neopisivo razdoblje svoga života.
Upravo takav biti će i Danijelin koncert "Otvoreno srce" u Mostaru, u Kosači, u petak 02.12.2022.!
Step 1/4
By clicking on the Buy a Ticket button you begin the process of purchasing tickets for DANIJELA on 02.12.2022. 20:00 .
Buy a ticket
Outlets
In addition to online shopping, you can also purchase your tickets at our points of sale. Look for us in your city too!