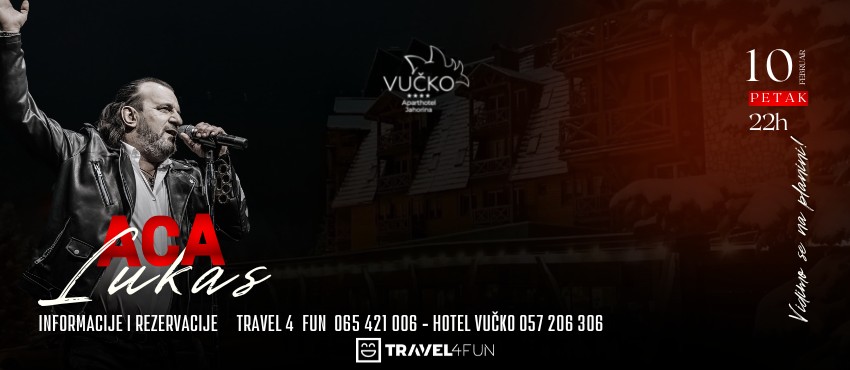 ACA LUKAS - HOTEL VUČKO @Hotel VUČKO
Date: 10/02
Location: Hotel VUČKO, Jahorina
Nakon kraće jesenje pauze nastavljamo koncerte koji će se održati u hotelu Vučko u organizaciji Travel 4 Fun agencije. Naš uspjeh je vaše zadovoljstvo i zato vam i ove sezone donosimo niz najboljih žurki uz najpopularnije izvođače regiona. Luksuzni ambijent aparthotela Vučko, vrhunska organizacija i produkcija, sa najboljim izvođačima današnjice vam garantuju najbolju zabavu ne samo na Jahorini nego i u cijelom regionu. Broj karata po sektorima je ograničen.
Ne propustite zimu i nezaboravan provod – VIDIMO SE NA PLANINI
Informacije i rezervacije se vrše na brojeve telefona:
Travel 4 Fun 065 421 006
Hotel Vučko - recepcija 057 206 306
Svoje karte možete preuzeti i preko sistema kupikartu.ba
Cijene karata u pretprodaji su i ove cijene važe za prvi kontigent karata:
PRVA ZONA: VIP EXCLUSIVE 160KM (stolovi sa stolicama u prva tri reda od bine uz obaveznu rezervaciju)
DRUGA ZONA: VIP 120KM (visoki stolovi uz obaveznu rezervaciju. Pozicija stolova iza prve zone VIP EXCLUSIVE)
TREĆA ZONA: 60KM STANDARD (stolovi bez stolica)
Program događaja:
Ulaz i kontrola karata je od 20:30
Nastup predgrupe od 21:00
Početak koncerta je u 22:00
Rezervacije važe do 22:00
Step 1/4
By clicking on the Buy a Ticket button you begin the process of purchasing tickets for ACA LUKAS - HOTEL VUČKO on 10.02.2023. 22:00 .
Buy a ticket
Outlets
In addition to online shopping, you can also purchase your tickets at our points of sale. Look for us in your city too!