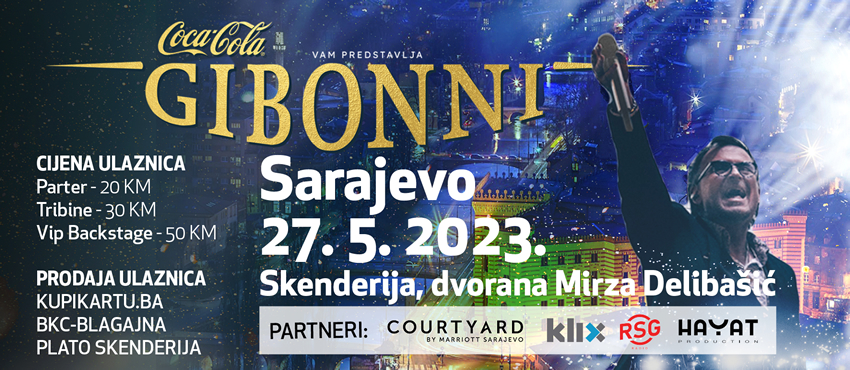 GIBONNI @Dvorana Mirza Delibašić
Date: 27/05
Location: Dvorana Mirza Delibašić, Sarajevo
Zlatan Stipišić Gibonni održat će spektakularni koncert 27.maja u dvorani "Mirza Delibašić" - Skenderija u Sarajevu.
Nakon 12 godina od solističkog koncerta i 6 godina od zajedničkog koncerta s Oliverom Dragojevićem, Gibonni se vraća u zagrljaj Sarajeva sa svojim neprolaznim omiljenim "starim" hitovima i repertoarom obogaćenim novonastalim hitovima.
Ovaj koncert u Sarajevu najavljujemo u ozračju dva koncerta koji su rekordno rasprodani više od mjesec dana prije održavanja u zagrebačkoj Areni 8.i10.marta.
O detaljima vezanim za početak koncerta, cijene i prodajna mjesta ,ulaznica kao i ostale informacije vezane za koncert, blagovremeno ćemo vas upoznati.
Step 1/4
By clicking on the Buy a Ticket button you begin the process of purchasing tickets for GIBONNI on 27.05.2023. 20:30 .
Buy a ticket
Outlets
In addition to online shopping, you can also purchase your tickets at our points of sale. Look for us in your city too!